Untouchable women enjoy a night of fashion

http://cityroom.blogs.nytimes.com/2008/07/03/untouchable-women-enjoy-a-night-of-fashion/#comment-336791
Why the hell wasn't this reported in Indian media? Because the indian media is more concerned with suppressing the acknowledgement of the existence and treatment of dalits than in bringing it to light. Why? Because its audience, the "great" Indian Middle Class is more embarrassed than shameful of its treatment of the Dalits. They'd rather not acknowledge their existence than do anything to better the "untouchable"'s lot. A dramatic example of this of course is the middle class student's protests over Mandal 1 & 2. Obvioulsy all of the students were upper caste and it was such a blatant upper caste movement that they didn't even try to prove otherwise that it was a pan-class movement. In their disgusting diplay, the upper caste students and their parents brandished brooms and rakes to tell the media what they thought their under-privileged brethren should rather be doing.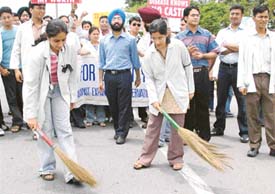 Our NRI brethren are of course, as is their wont, even more vocal about their objections to reservation and they don't care enough to make a distinction between SC/STs and OBCs. NRIs are almost exclusively upper caste excluding at the most a few OBCs from TN/Andhra, Punjab and Gujarat. A quick run-through of the common surnames will tell you the truth.
A run through of the NRI demonstrations on the 2006 reservations issue.
http://www.friendsofsouthasia.org/caste/reservations/PressRelease_060906.html
The author writes about the hypocrisy of the demostrators far more effectively and in fewer words than I can
An IIT defending its reticence to reservations
http://www.indianexpress.com/news/badge-of-iit-is-talent-not-privilege-or-caste-iit-kanpur-staff/5246/
Sure, you can be agnostic to caste and privileges if you're an Amity University or an IIPM but you're an IIT. If the Govt. forces Air India to fly to Aizwal for all of two passengers and we look at that as a public service, how is an IIT/IIM/DU any different? An IIT is our government's construct. Our government is Our societal construct. A society that has over 160 million Dalits, over 80 million Tribals constituting a good quarter of our poulation and a wide variety of lower castes estimated at 52% of pop. by the Govt. and quoted at 35% by the National Statistical Organisation, which figure obviously the anti-reservationists use (they selectively don't use the 28% of SC/STs)
If an IIT's job is to take children of traditionally privileged parents who can afford an education in a DPS or a DAV, the extra tuitions, the Kota classes and Brilliant's tutorials and turn them into exemplars of talent, why don't we simply outsource the job to SRM university? For if it were not for these consequences of privilege, many of the IITians and DU students would find that their "merit" is the same as the the son or daughter of their sweeper. Their SC/ST brethren also labour under the stigma that their surnames produce automatically and the fact that their parents are usually blue collar or menial workers who can neither afford nor understand what their children need to succeed academically. IIT Kanpur is mistaking the symptom of its existence to its cause.
The atrocities against Dalits, Tribals and minorities aren't just systemic and institutional but also violent.
http://www.sikhtimes.com/news_012806a.html
http://www.frontlineonnet.com/fl2323/stories/20061201004713000.htm
http://timesofindia.indiatimes.com/articleshow/779892.cms
http://www.aiccindia.org/news/gohana_incident_probe_panel_seeks_action_against_district_officials.htm
http://parliamentofindia.nic.in/ls/lsdeb/ls10/ses1/0409089101.htm
As one would notice, the violence isn't random but is brought to bear brutally when the oppressed stand up for their rights or show cognisance of their rights or show improvement in their lot beyond what is judged by the upper castes as agreeable.
The Indian Middle class is rife with hypocrisy. So are its constructs like the Indian media. Unlike Engels idea of the bourgeois, I refuse to give the Indian Bourgeois the credit for breaking down barriers and dismantling feudalism. The Indian bourgeois is more interested in keeping those barriers and constructing a modern version of feudalism.